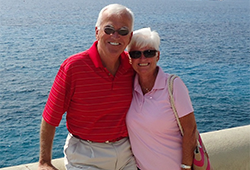 My father played football for Saint Anselm College after the war so I was familiar with the school from his stories before I started thinking about college. I played basketball in high school and was invited to play at Saint Anselm College. My career on the court was short, but Saint Anselm provided me with an opportunity to play at my father's alma mater with a great group of coaches and players. In the classroom, I became a better student because the professors were sincerely interested in their students.
I love Saint A's because of the people that I met and the friends that I made while I was a student there. I made some of the best friends of my life at Saint Anselm College. Many of us still get together once or twice a year. I have fond memories of many of the members of the monastery, especially Father Finbar O'Mahoney and Father Casimir Mulloy.
My wife Betty and I have donated to Saint Anselm College for several years because of the college's impact on my life. When I heard about the renovation of the new student center complex, I was interested in increasing my support. The benefits of a gift of stock were shared with me and I knew that was the way to go.
A gift of a stock that has appreciated over the years provides favorable tax incentives to the donor and a much-needed donation to the college. By giving the stock directly to the college, I didn't pay capital gains tax on the appreciated value of the stock. From a financial planning perspective, a gift of stock can also help you balance your investment portfolio if it is weighted by one or two stocks. Anyone thinking about a generous gift to the college should consider the tax benefit they can receive from making a gift of an appreciated stock. You benefit from the favorable tax rules, and the college benefits from your generosity. You both win.
Jack Treanor '69 studied economics at Saint Anselm College and is the retired president and chief operating officer of the Washington Trust Company. Jack received his M.B.A. from Suffolk University in 1976, completed the program for management development at the Harvard Business School, and successfully submitted his thesis to the Stonier Graduate School of Banking at Rutgers University. Jack currently serves on the boards of directors of Federal Home Loan Bank of Boston, the Washington Trust Company, and Thielsch Engineering.
For more information about making a gift of stock, we invite you to contact Peter M. Labombarde, CFSC, director, gift planning, (603) 641-7228, plabombarde@anselm.edu, and visit the planned giving section of the website .