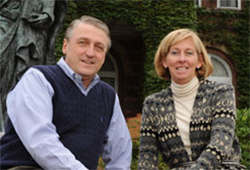 Michael Feenan '81 and Ann (MacDougall) Feenan '81
"When we sat down to update our financial affairs, we felt that the effort was more than an update of legal documents. It was a time to reflect on what our legacy would be for our family. We felt Saint Anselm had been an important constant in our lives, a contributor and a part of our family. By including a commitment to Saint Anselm in our financial plan, we openly support the Catholic legacy Saint Anselm College represents. Our commitment will ensure Saint Anselm continues to challenge future generations to seek new and greater levels of human greatness."
-Michael and Ann (MacDougall) Feenan, Class of 1981
Learn More
We would love to speak with you, confidentially of course, about your legacy planning. Contact Peter M. Labombarde, CFSC, at (603) 641-7228 or plabombarde@anselm.edu today, to discuss charitable gift options that are best suited to your situation.