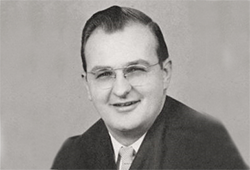 Joe Bedard '54
A bequest to Saint Anselm College is a way to express your faith in the future of your college and it's not really all that complicated to accomplish. Here's one donor's story.
Joe Bedard '54 came to Saint Anselm College from North Cambridge in the fall of 1950. He majored in history and loved the theatre. He was stage manager for the Abbey Players, and acted in its productions of Arsenic and Old Lace and Harvey. He went on to receive a master's degree from BU, and had a long and successful career with the State of Massachusetts. He and Mary Sullivan wed later in life (1970); they worked hard, and they enjoyed a long and happy marriage in Lexington. They were not blessed with children, but theirs was nonetheless a life well lived.
Legacy Planning
Five years before his death in 2011, Mary having passed away, Joe updated his estate plan to reflect his profound and lifelong gratitude for the superior education and the Benedictine spiritual values he was so fortunate to find on the Hilltop.
Joe left 50 percent of his estate to Saint Anselm College, to establish two permanent funds in memory of his beloved Mary. One provides scholarships for deserving students, and the other supports the Geisel Library. These endowed funds keep the memory of Joseph A. Bedard '54 and Mary S. Bedard alive forever, helping worthy students attend the college Joe loved and enhancing their Anselmian experience while on the Hilltop. Truly a legacy well planned!
Learn More
We would love to speak with you, confidentially of course, about your legacy planning. Contact Peter M. Labombarde, CFSC, at (603) 641-7228 or plabombarde@anselm.edu today, to discuss charitable gift options that are best suited to your situation.