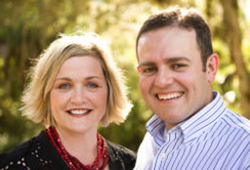 Patty '94 and Michael '93 Gahan
A bequest to Saint Anselm College is a way to express your faith in the future of your college and it's not really all that complicated to accomplish, even for younger alumni. Here's one couple's story.
Michael Gahan '93 didn't think much about the future when he left Saint Anselm College. He didn't have a job lined up when he headed for Washington, D.C., with a classmate. If anything, his plan was, "wherever life takes me."
In the years since then, he has become very, very good at planning. So good, in fact, that it's his job. He is a financial advisor and chartered retirement planning counselor at Morgan Stanley. So, it's not surprising that he thinks very carefully about his own family's financial future. And in doing so, he also thinks about Saint Anselm College.
Shared Values
Michael and Patricia (Robinson) Gahan '94 have contributed to The Saint Anselm Fund for years. Recently, they decided to go one step further and include the college in their estate planning.
"Saint Anselm College means a great deal to us," Patty says. "We hope we can provide for our children and also help the college. It's a way to make a statement about what's important to us."
Mike continues, "When we started having kids, I felt we needed things in writing so things would be taken care of."
The security of their children is the Gahans' main concern, but Saint Anselm is included in their will. Michael says, "If we pass away, there is a percentage of our estate set aside to go to the college. If in the unfortunate event that we all pass away, there is an even larger percentage going to Saint Anselm."
"We do everything we can to make sure our kids have a positive future, but we don't believe in giving children everything. They also need to work for what they have," Patty says. "We also believe making a contribution sets an example for them: you give back what you can, you don't just absorb. We want our kids to learn that at a young age. Giving to Saint Anselm is a continuation of that."
Learn More
We would love to speak with you, confidentially of course, about your legacy planning. Contact Peter M. Labombarde, CFSC, at (603) 641-7228 or plabombarde@anselm.edu today, to discuss charitable gift options that are best suited to your situation.