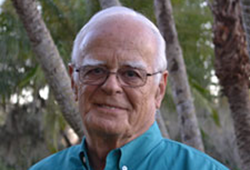 "When you meet a fellow Anselmian, you hug first and ask questions later," says Tony Levering '59.
It just felt natural ... that is what Tony Levering '59 says about deciding to include Saint Anselm College in his estate plans.
Although he had a long career in the banking industry, Tony's first love was English. He loves to talk and write. And when he does, his devotion to Saint Anselm College comes through, loud and clear. "When you meet a fellow Anselmian, you hug first and ask questions later; that's the way I feel about the school."
Growing up in Philadelphia, Tony attended a Benedictine boarding school, where his mentor was Father Felix Pepin, O.S.B. After serving in the Navy during the Korean War, he wrote to Fr. Felix for advice and learned that he had returned to his home abbey, Saint Anselm.
"I came up for a visit in my 1947 Pontiac and by the time I turned off the ignition, I knew this was where I would go to school. I fell in love with it." He had brought his transcript with him. Two weeks later, he received a letter welcoming him to Saint Anselm.
"I was one delighted young man," he recalls. He attended on the GI Bill and washed pots and pans at a local hospital. He loved every minute of his four years, but one of his most memorable experiences was playing the Gentleman Caller in the Abbey Players' production of The Glass Menagerie.
Tony stayed close to his friends at Saint Anselm. When it came time to send his children to college, he told then-president Brother Joachim Froelich, O.S.B., "There's no way I can afford to send five kids to this college." The president knew the young Leverings would fit in and be successful at Saint Anselm.
"Your job is to get them up here," he said. "I'll work on the financial part." Two Leverings enrolled and graduated: Mary Ellen '86 (an engineer/attorney married to Chris Grover '86) and Theresa '88 (a human resources executive).
"I just want Saint Anselm College to be able to do for others what it did for me and for my family," says Levering, now in his 16th year of retirement. "When you get to my stage in life, you start thinking pretty hard about what you have and where it will go and what good it will do. This college is important to me. I'd been donating over the years, so the decision to include it in my estate plans just seemed natural. It's something I did with a lot of joy."
Learn How You Can Help
If you would like to learn ways you can help more students receive an education like the one Tony Levering received, consider making a planned gift to support Saint Anselm College. Contact Peter M. Labombarde, CFSC, at plabombarde@anselm.edu or (603) 641-7228 today, at no obligation.