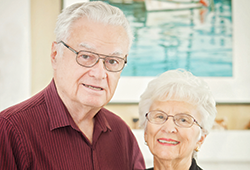 Richard Meagher '52 and his wife, Joan, have the kind of warm, comfortable rapport that develops through decades of marriage. As they speak, they help each other fill in details, offering a window into their full, well-planned life together. Richard remembers his time at Saint Anselm as "four happy years," during which he received a fine education. After Marine Corps Officer Candidates School and several years of active duty, Richard settled in Connecticut with Joan. It was here that their three children were born and Richard worked in cemetery management for almost forty years. In 1992, he retired as executive director of the Catholic Cemeteries Association of the Archdiocese of Hartford.

Throughout these years, Richard and Joan remembered Saint Anselm College, giving generously to the annual fund each year to ensure that more students could benefit as Richard had. Richard adds, "I have been impressed with how the college has grown and developed, and I want to see continued growth."

When Richard retired, they moved to California to be closer to their children. These days, Richard—a lifelong artist— teaches drawing and watercolor painting at their city's art center. In their spare time, Richard and Joan go to the gym each morning, are active in their church community, play bridge and spend time with family. Their retirement plans also include a charitable gift annuity that they recently established, naming Saint Anselm as the beneficiary. Joan explains, "It's an alternative to leaving money in our will. The terms are very good for us and for the college." Richard agrees, "We benefit while we're alive, and it will benefit Saint Anselm after we pass on." Joan adds, "It's like having your cake and eating it too!"

Their gift will one day contribute to student support at Saint Anselm. Today, it provides a guaranteed income for the Meaghers during their lifetime, along with an immediate tax deduction. Best of all, Richard and Joan have the satisfaction of knowing that they are paving the way for the next generation of Anselmians.
For more information about how a charitable gift annuity can help you support Saint Anselm College while providing reliable income for you and your loved ones, please contact Director for Gift Planning Peter M. Labombarde, CFSC, at (603) 641-7228 or plabombarde@anselm.edu.