Remember the past and focus on the future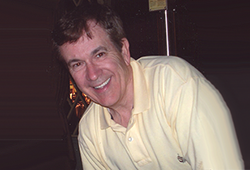 Dr. Alan O'Grady '67
If it wasn't for Saint Anselm College, I don't know what I would be doing today. Being a student at Saint A's in the mid-sixties gave me focus and taught me how to study: it changed my future. After graduation, I went to Georgetown and was well prepared for the rigors of post-graduate work. That would not have been possible had I not learned the fundamentals of studying and preparation. Today I am a periodontal surgeon.
I tell my patients all of the time to look at Saint Anselm when their children are looking at colleges. A lot has changed since I graduated, but Saint A's has maintained its sense of community. Parents like to hear about the family feeling at Saint A's, which most schools can't offer. It is reassuring for them to know that someone is looking out for their child. For me, that person was Father Casimir Mulloy.
In the sixties, many of the monks lived in the dorms as proctors. Father Casimir was the proctor in our dorm when I was a freshman. It was great having him right there for students. Having never been away from home, I needed someone to talk to and he was always offering advice. Father Casimir also helped me get serious about my studies. The requirements of college were much greater than high school, where I'd been more interested in baseball than classwork. Father Casimir taught me the importance of making my studies my top priority.
From my stories about Father Casimir and others, my wife Sally knows just how important Saint Anselm is to me. When my youngest brother passed away from cancer, Sally suggested we create a scholarship at Saint Anselm College in his memory. Dennis went to Tufts before joining me at my practice. Establishing the Dr. Dennis O'Grady Memorial Scholarship at my alma mater is a two-way street. The scholarship is a wonderful way to memorialize a great person and to help a great student so that they can receive the same benefits that I did from Saint Anselm.
I can't believe it has been 50 years since I graduated. 1967 seems like only 10 years ago. The campus is bigger, but it still has that familiar feeling. It is so meaningful to be able to help students attend the school that taught me so much.
Alan O'Grady, D.D.S., P.C. '67 is a periodontal surgeon in Massachusetts. For Reunion 2017, he volunteered as a chair for the Class of 1967. We invite you to read more about
creating a scholarship to honor a person dear to you
.