Launching Futures in Medicine and Nursing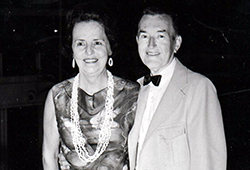 Dr. Daniel E. Black '38 and Helen Doyle Black were high school sweethearts in Nashua in the early 1930s. Their paths diverged; Daniel's to Saint Anselm College and a career in medicine, and Helen's to Middlebury, then the United States Navy WAVES. After the war, Helen became a personnel manager. She and Daniel, having both remained single, became reacquainted and married in the mid-1970s. They enjoyed two decades together until his passing in 1997.
Helen never lost touch with Saint Anselm College. She contributed regularly in Daniel's memory for nearly twenty years. At the end of her life, she bequeathed a very generous sum to the college to create the Dr. Daniel E. Black '38 and Helen Doyle Black Endowed Scholarship Fund. The fund will award an annual scholarship to a student in his or her junior or senior year at the college who is preparing for a career in medicine or nursing. The Blacks' legacy will now help launch futures for rising generations of Saint Anselm students.
Gifts like the Blacks' help the college open the doors of opportunity and invite more students to benefit from all that an Anselmian education offers. Endowed scholarships allow the college to attract and retain the very best students, giving them the resources to excel in school, and then move on to meaningful and rewarding careers. The world needs more Anselmians, and we invite you to consider endowing a scholarship to help that happen!